Novatron: Australia's Leader in Water Filtration and Desalination
We are Novatron Australia, a leader in designing and manufacturing water desalination plants and water treatment equipment. We draw upon the latest technologies – including reverse osmosis membranes and nanofiltration – to provide Australian homes and businesses with cleaner water systems. Thanks to our expertise and specialised equipment, potable water is increasingly easy to come by in Australia's more arid regions.
We're headquartered in Forrestfield, just a few kilometres southwest of Perth, Western Australia. Access to water treatment has long been an issue in this part of the country, with farmers requiring irrigation solutions in some areas, and homeowners eager to incorporate more sustainable water treatment practices into their day-to-day lives.
This demand for clean, sustainable water treatment has allowed us to build significant experience in all things related to water filtration. Over the past 20 years, we have installed hundreds of clean water systems in Perth and the surrounding parts of Western Australia. You simply will not find a more experienced team for water treatment in Perth.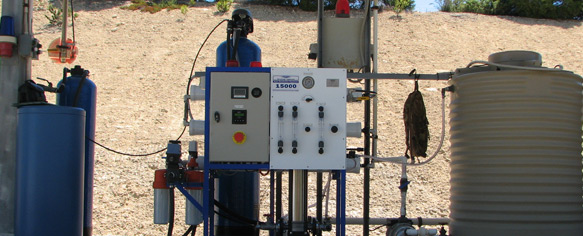 We Leverage the Latest Technologies in Water Purification, Desalinisation and Filtration
We may have begun operations two decades ago, but our team strives to stay up to date with the latest developments in water filtration and desalinisation. Over the years, our knowledge and capabilities have grown – and we treat each new project as an opportunity to expand our skills and experiences even further.
Reverse osmosis is a filtration technique that has been used for decades, and our team know these systems forwards and backwards. With reverse osmosis, dissolved salts and other impurities are removed from water solutions – leaving clean, purified, potable water behind.
In more recent years, nanofiltration systems have come on the scene. This approach to clean water is particularly useful for creating clean drinking water. In these systems, a nanofiltration membrane removes microscopic organic substances such as multivalent ions and micro-pollutants from the water. This approach is most often used with low total dissolved solids (TDS) water sources, such as groundwater and surface water.
We primarily focus on supplying our clients with equipment. However, we can also provide routine service and maintenance. Even if you purchased your water filtration system through one of our competitors, we are still happy to help. Our vast industry experience means that we're able to work on and even improve any and all water purification systems in Australia and beyond.
Clean water is essential to human life and prosperity, but it's also intrinsically linked to the health of our planet. If you're exploring sustainable alternatives for your water systems, we are the team to turn to. Our service area is growing, too. In addition to servicing Western Australia, we're also active across the rest of the country – and we have even installed water filtration plants in South East Asia.
Call us today on (08) 9352 8100 to learn more.
FAQ's
1. What Quality will the water be?
Good quality water can be achieved from seawater and as a general rule, we can produce water that will be 99% less salt than the feed water. For livestock water quality can be higher and we would incorporate a "blend" of feed water into the product to mix to a certain quality, say 2500-3000mg/L for sheep. Essentially we are putting some salt back into the water as we have taken too much out.
2. Can I put any water in a Reverse Osmosis unit?
Well, you can but it's not ideal because the unit won't last forever. A water analysis needs to be completed so we can make sure the unit is going to operate reliably and economically.
3. What maintenance is required?
It Will depend on how often the unit is operated but will include;
Cartridge filter replacement every month or longer but guided by pressure drop
across the filter
Antiscalant dosing chemical (where fitted), weekly top-up
Membrane cleaning (where fitted) every 3 months but guided by the pressure
drop and/or loss of production
Pump servicing – oil changes for piston pumps (if required)
When the plant is being operated, a quick review and log of the operating data is recommended (10mins max) to assist with troubleshooting.
The above seems like a lot but once you get to know the unit and what to look for it will become second nature.
4. How much will it cost to operate?
Most of the cost to operate will be power (approx 80% or more) as there could be up to 3 pumps on the unit (feed, system and dosing).
Small units (estimates only for higher recovery plants)
5,000 litres per day, $ 1.83 per kL which allows for 3 monthly cleaning chemicals,
monthly cartridge filters, new membrane costs over 5 years and power (74%)
10,000 litres per day, $ 1.33 per kL
20,000 litres per day, $ 1.14 per kL
5. How much waste water will they produce?
It Will depend on the salt content is usually the higher the amount of salt in the feed water the more wastewater will be produced from wastewater treatment plants. With treated wastewater anywhere from 25 to 90% of the waste produced.
There are ways we can design a unit to improve efficiency but there are always consequences to consider. Increasing recoveries increase power requirements and operating costs. Some units cannot be improved with recovery due to the scaling of the water.
6. What do I do with the wastewater after wastewater treatment?
The byproduct of treated wastewater needs to be disposed of somewhere and will have more salt in it. If discharging into a waterway then the destination source must be of worse quality (higher salt) than the waste. Don't send the product of recycled wastewater treatment plants back into your feed water.
7. How much power do they need?
Power requirements are dependent on the salt level in the water as we have to
overcome the osmotic pressure to convert it into freshwater.
5k unit may need 1.1kW for BW, 2.2kW for SW
10k unit 1.5kW for BW, 3kW for SW
20k unit 2.2kW for BW up to 9000mg/L, 5.5kW for SW
2.2kW is the maximum motor size we can use for a single-phase unit so for all other designs, a generator is required.
8. Can I run the unit on solar?
Yes you could but you will need a pretty big solar system and a pretty big RO as it will only be able to operate during daylight hours, therefore may need to be up to 3 times the size to produce the same amount of water. As solar technology including batteries improve and come down in price there will certainly be an option we feel.
9. Does the unit have to run all the time?
The units do like to run for longer durations rather than stop and start like a pressure pump. If the unit isn't going to be operated for more than a week then we recommend either manually starting it for 15minutes or preserving the machine.
10. Can I install the unit and maintain it myself?
Yes, you can, we prefer to train our clients as much as possible to show them what to be aware of and how to look after their treatment plants. Full training can be provided (recommended) when we test the machine in our workshop.